Bitumen Sourcing in the Olmec Region
Vea este informe en Español.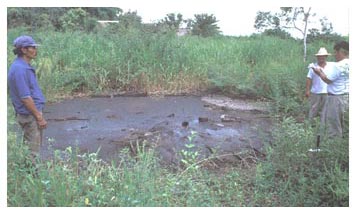 Research Year: 2004
Culture: Olmec
Chronology: Early Pre-Classic (ca. 2000-850 B.C., uncalibrated radiocarbon years)
Location: Veracruz, México
Site: Olmec Heartland
Table of Contents
Abstract
Resumen
Introduction
Table 1. Archaeological Phases and Periods
Bitumen in Mesoamerica
Bitumen Procurement and Exchange in the Olmec Region
Table 2. Archaeological Bitumen Sample Proveniences and Phase Assignments
Conclusions
Acknowledgements
List of Figures
Sources Cited
Bitumen, found in abundance in Mesoamerica's southern Gulf Coast region in natural seeps and in many archaeological contexts, is an important economic resource and exchange item that has received little consideration in Mesoamerica. The FAMSI-funded investigation reported here is the initial pilot project of a long-term investigation of bitumen exchange among the Olmec. The goal of the pilot project was to locate and sample bitumen seeps in the Olmec region and to compare the chemical signatures of these natural seep materials to archaeological bitumen excavated from sites in the Olmec region. Gas chromatography/mass spectrometry analysis is used to trace archaeological bitumen specimens to their sources and provides data on intra-regional movement of bitumen, shedding light on patterns of material procurement, commodity exchange, intra-regional relationships, and interactions.
El betún se encuentra en abundancia en la región de la Costa del Golfo del sur de Mesoamérica, en yacimientos naturales y en muchos contextos arqueológicos, es un recurso económico importante y un artículo de intercambio que ha recibido muy poca consideración en Mesoamérica. La investigación financiada por FAMSI reportada aquí, es el proyecto piloto inicial de una investigación a largo plazo de intercambio de betún entre los Olmecas. La meta del proyecto piloto fue localizar y sacar muestras del yacimiento de betún en la región Olmeca, y comparar sustancias químicas de estos materiales de yacimientos naturales con el betún arqueológico excavado de los sitios de la región Olmeca. Se usan análisis de la cromatografía de gases y los espectrómetros de masas, para rastrear especímenes de betún arqueológico para sus recursos, y proporcionar información sobre movimiento intra-regional de betún, vertiendo luz sobre los patrones de obtención del material, intercambio de mercancía, relaciones intra-regionales, e interacciones.
---
Click to download the report in PDF format:
Bitumen Sourcing in the Olmec Region (1.00 MB)
The PDF files require Adobe Acrobat Reader.
To download the latest version, click the Get Acrobat Reader button below.

Submitted 08/31/2005 by:

Department of Anthropology
California State University, Fullerton