Archaeological Research in the Holmul Region, Petén, Guatemala
Preliminary report of the 2004 season
With contributions by Judith Valle, Co-director
Translation of the Spanish by Eduardo Williams
Ver este informe en Español.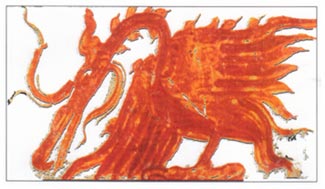 Research Year: 2004
Culture: Maya
Chronology: Preclassic - Early Classic
Location: Holmul, Petén, Guatemala
Site: La Sufricaya
Table of Contents
Introduction
Results of Research at Cival
Mapping
Excavations at Cival
Conservation Measures at Cival
Research at La Sufricaya
Conservation of Mural 1
Murals 6 and 6N
Excavations in Structure 1
Conservation
Excavations on Structure 146
Research at Holmul
Conclusions
Acknowledgments
List of Figures
Sources Cited
The 2004 season was one of the longest and most successful since archaeological research was started at Holmul by the Holmul Archaeological Project in the year 2000. This fieldwork was carried out from March to July, 2004, under the direction of the author, Dr. Francisco Estrada-Belli (project director) and Lic. Judith Valle (co-director). Archaeologists and advanced students from United States and Guatemalan universities took part in this fieldwork, as well as experts in several disciplines, such as artist and Maya mural expert Heather Hurst, mural painting conservator Alberto Semeraro (Italy) and Dr. Gene Ware, who is an expert in digital photography of mural paintings. These professionals are joined by Lic. Bernard Hermes, who advised us during the ceramic analysis. The technical team at Holmul was complemented by over 30 workers from the Melchor de Mencos community.
In this season three main archaeological research subjects were addressed. These are defined as follows:
The development of architecture and sacred ideology in the Preclassic and its transition to the Early Classic. This topic was focused through the excavation of pits in the main plaza at Cival (E Group), the Triadic Group and a defense wall around Cival. The transition to the Early Classic was documented mainly with an excavation in Building B of Group II at Holmul.
The relationship between the Maya and Teotihuacan in the Petén. This problem was developed in the excavations of Group 1 in Structure 1 at La Sufricaya with its mural painting, as well as in a structure in front of it.
Holmul's peak and downfall as a center of power during the Terminal Classic. This topic continued developing with excavations in the area of palaces in Group III and the adjacent plazas, where we found an occupation after the abandonment of the palaces and a defensive wall.
The work carried out in 2004 provided us with important data about the three main research subjects, leading us to modify existing theories about the formation and change in the architecture, ideology, and political organization of the Maya state in this region. Our data and interpretative statements are summarized below.
---
Click to download the report in PDF format:
Archaeological Research in the Holmul Region, Petén, Guatemala (2.34 MB)
by: Francisco Estrada-Belli
The PDF files require Adobe Acrobat Reader.
To download the latest version, click the Get Acrobat Reader button below.

Submitted 03/20/2007 by:
Dr. Francisco Estrada-Belli
Vanderbilt University
Department of Anthropology
Box 306050 Station B
Nashville, TN 37235
francisco.estrada-belli@vanderbilt.edu