Late Classic–Epi-Classic Ceramic Chronology at Islas de Los Cerros, Tabasco, México
Vea este informe en Español.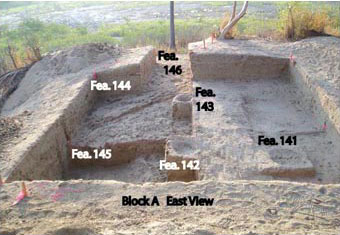 Research Year: 2005
Culture: Chontal Maya
Chronology: Late Classic–Epi-Classic
Location: Northern Chontalpa Region, Tabasco, México
Site: Islas de Los Cerros
Table of Contents
Abstract
Resumen
Introduction
Methods
Results
Mound Formation
Ceramic Analysis
Summary
List of Figures
The FAMSI-funded 2005 season at Islas de Los Cerros, Tabasco, México, used block excavations in a multi-level residential mound to locate and sample stratified features. The excavations were expected to provide a large sample of feature-associated pottery for developing a preliminary ceramic sequence for the Chontalpa region of Tabasco. Although the excavations did not yield structures or other features with abundant pottery, they did contribute new information on mound formation processes and Formative pottery from Formative deposits reused in the Late Classic period. This report describes the preliminary results of the excavations.
La temporada de campo 2005 financiada por FAMSI en las Islas de los Cerros, Tabasco, Mexico, utilizó excavaciones de bloque en un montículo residencial de múltiples niveles, con el fin de localizar y obtener muestra de elementos estratificados. Se esperaba que las excavaciones proporcionaran una amplia muestra de cerámica de elementos asociados para desarrollar una secuencia cerámica preliminar para la región Chontalpa de Tabasco. Aunque las excavaciones no produjeron estructuras u otros elementos con cerámica abundante, sí proporcionaron nueva información en los procesos de formación de montículos y de alfarería Formativa, de los depósitos Formativos reutilizados en el período Clásico Tardío. Este informe describe los resultados preliminares de las excavaciones.
---
Click to download the report in PDF format:
Late Classic–Epi-Classic Ceramic Chronology at Islas de Los Cerros, Tabasco, México (388 KB)
The PDF files require Adobe Acrobat Reader.
To download the latest version, click the Get Acrobat Reader button below.

Submitted 01/15/2006 by:
Dr. Bradley E. Ensor
Eastern Michigan University
bensor@emich.edu