Classic Maya Place Name Database Project, Mesoamerica
Ver este informe en Español.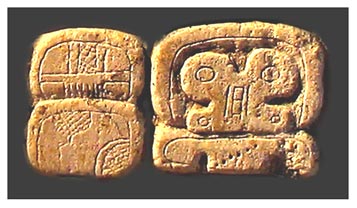 Click on image to enlarge.
Research Year: 2006
Culture: Maya
Chronology: Classic
Location: Maya Area
Sites: Copán, Naranjo, Palenque, Piedras Negras, Tikal, Yaxchilán
Table of Contents
Abstract
General Considerations
Introduction
The Object of the Study
Specific Goals of the Research
Data Collection
Organizing the Database
Table 1. A sample of database entries before secondary classification
Additional Methodological Challenges at the Data Entry Stage
Secondary Classification: Contextual Analysis of Place Names
Why Secondary Classification?
The Two Main Referential Contexts of Place Names
Contextualizing the Narrative
Contextualizing People
Visualizing the Contexts
Table 2. Place Name Contexts in the Inscriptions; the case of Tikal (Mutal)
Classic Maya Place Name Database: Preliminary Results
Data Acquisition
Analysis
Presentation/Publication of the Results
Sources Cited
Appendix 1. 200 Maya Place Names
This report presents the preliminary results of the Classic Maya Place Name Database Project. The first part of the report outlines the main goals and challenges of the study of place names in Classic Maya inscriptions. The second part of the report describes the procedures followed during the data collection stage of the project and some additional challenges, which emerged at that stage. The third part of the report highlights some initial results in terms of the data acquired and the analysis of the data done so far.
---
Click to download the report in PDF format:
Classic Maya Place Name Database Project, Mesoamerica (308 KB)
The PDF files require Adobe Acrobat Reader.
To download the latest version, click the Get Acrobat Reader button below.

Submitted 02/15/2007 by:
Alexandre Tokovinine
Department of Anthropology
Harvard University
tokovin@fas.harvard.edu