The Early Classic Obsidian Trade at Los Horcones, Chiapas, México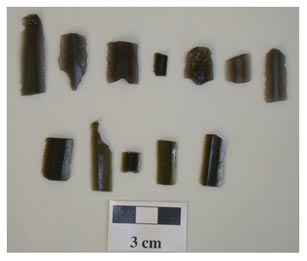 Click on image to enlarge.
Research Year: 2006
Culture: Mixe-Zoquean, Teotihuacán
Chronology: Early Classic
Location: Tonalá, Chiapas, México
Site: Los Horcones
Table of Contents
Abstract
Resumen
Introduction
Chronology
The Obsidian Assemblage from Los Horcones
Obsidian Sourcing and Source Distribution Results
Obsidian Exchange Patterns on the Pacific Coast of Chiapas during the Classic Period
Los Horcones and Obsidian Exchange Patterns at the Macro-Regional Scale
Discussion
Acknowledgements
List of Figures
List of Tables
Sources Cited
Proyecto Arqueológico Los Horcones (PALH) has conducted two seasons of archaeological fieldwork at the site of Los Horcones on the Pacific Coast of Chiapas with the primary goal of investigating the nature of Teotihuacán's presence at this site. PALH builds on the pioneering work of Carlos Navarrete (1976, 1986) who was the first to identify evidence of connections between this site and Central México. This report summarizes the result of sourcing analysis conducted on obsidian artifacts from Los Horcones. The evidence shows the importance of trade and exchange in the history of this site and the remarkable extent of the networks that brought this valuable resource to Los Horcones. Six distinct sources were being exploited, first among them was green obsidian from Pachuca showing strong economic ties between Los Horcones and Teotihuacán during the Early Classic.
La principal meta de las dos temporadas de trabajos de campo realizados por el Proyecto Arqueológico Los Horcones (PALH) en la costa del Pacifico de Chiapas en el sitio de Los Horcones a sido investigar los contactos entre Teotihuacán y este sitio. El PALH tomo como punto de inicio el trabajo pionero de Carlos Navarrete (1976, 1986) quien primero identifico conexiones entre Los Horcones y el México Central. Este reporte presenta los resultados de análisis químico y visual de artefactos de obsidiana de Los Horcones. La evidencia muestra la importancia del intercambio interregional en la historia de este sitio. Obsidiana de seis yacimientos distintos fue utilizada en Los Horcones. El yacimiento mas representado fue el de Pachuca que evidencia los fuertes vínculos económicos entre Los Horcones y Teotihuacán durante el Clásico Temprano.
---
Click to download the report in PDF format:
The Early Classic Obsidian Trade at Los Horcones, Chiapas, México (850 KB)
The PDF files require Adobe Acrobat Reader.
To download the latest version, click the Get Acrobat Reader button below.

Submitted 09/06/2007 by:
Claudia Garcia-Des Lauriers
Assistant Professor
Department of Art
University of Nevada, Las Vegas
garci491@unlv.nevada.edu
tlacochcalco@yahoo.com