Power in Places: Investigating the Sacred Landscape of Iximche', Guatemala
With contributions by: Ann M. Scott, Research Assistant, The University of Texas at Austin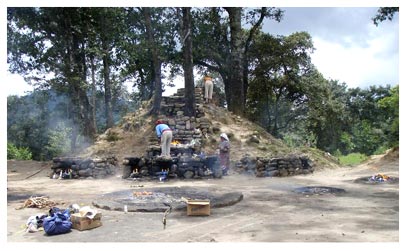 Click on image to enlarge.
Research Year: 2007
Culture: Maya
Chronology: Postclassic
Location: Sacatepéquez, Escuintla, Chimaltenango, and Sololá, Guatemala
Site: Iximche'
Table of Contents
Abstract
Resumen
Introduction, Field Methods, Colonial Documents and Historic Sites
Introduction
Field Methods
Colonial Documents and Historic Sites
Sites associated with Iximche'
Cultural traits and histories
Towns, their spiritual guardians, and defining physical space
Town by town summary
Summary
Altars and their day sign patrons
A brief overview of the calendar-round day patrons
Sites and their day patrons
Overview
Site Descriptions
Iximche' Region, Department of Chimaltenango
Antigua Region, Department of Sacatepéquez
Lake Atitlán Region, Department of Sololá
Summary and conclusions
List of Figures
Sources Cited
Following leads from colonial documents, community spiritual leaders (ajq'ija' "daykeepers"), municipal officials and town residents, over fifty sacred sites spread across the four principal Kaqchikel departments were visited, ritually acknowledged, and surveyed. Oral social histories of the sites were collected. Town spiritual guardians were identified. Calendrical associations with the altars were noted. Though some site names and even altar locations have changed over time, day associations appear to be more stable. Many sites were found to be recently abandoned, some actively destroyed or barricaded, others in open contestation between religious factions; nevertheless, major pilgrimage sites are heavily frequented.
Basándose en las indicaciones de documentos coloniales, las de los guías espirituales (los ajq'ija' "contadores de los días"), las de los autoridades municipales y las de los pobladores, se reconocieron (con los ritos y mapeos debidos) más que cincuenta lugares sagrados en los cuatro principales departamentos Kaqchikeles. Se identificaron los guardianes espirituales de los pueblos visitados. Las asociaciones caléndricas de los altares fueron anotados. Aunque se han cambiado algunos nombres de los altares, y a veces hasta los mismos altares se han mudado, las asociaciones caléndricas parecen ser bastante estables. Se vió que muchos sitios se han caído en desuso recientemente; algunos han sido destruídos o vedados; otros se encuentran en pleitos abiertos entre facciones religiosas; sin embargo, los sitios mayores, centros de peregrinaje, presentan altares muy activos, altamente utilizados.
---
Click to download the report in PDF format:
Power in Places: Investigating the Sacred Landscape of Iximche', Guatemala (5.72 MB)
The PDF files require Adobe Acrobat Reader.
To download the latest version, click the Get Acrobat Reader button below.

Submitted 02/13/2008 by:
Judith M. Maxwell
Tulane University
maxwell@tulane.edu
Ajpub' Pablo García Ixmatá
Universidad Rafael Landívar