Analysis of Samples and Artifacts from the Mirador Group, El Peru-Waka'
Vea este informe en Español.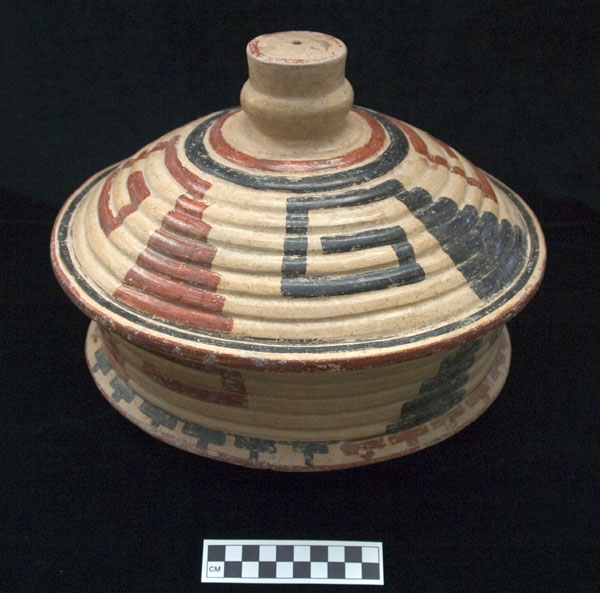 Click on image to enlarge.
Research Year: 2007
Culture: Maya
Chronology: Classic Period
Location: Petén, Guatemala
Site: El Peru-Waka'
Table of Contents
Abstract
Resumen
Introduction
Background – El Perú-Waka's Mirador Group
Objectives
Results
Radiocarbon Dates
Objectives
Methodology
Results
Beta-239735
Beta-239736
Beta-239737
Beta-239738
Beta-239739
Beta-239740
Beta-239741
Beta-239742
Conclusions
Textile Analysis
Objectives
Methodology
Results
Sample 119 – Fabric Fragments
Sample 122 – Mud with textile imprint
Conclusions
FTIR and SEM-XEDS Analysis of Pigment, Matrix & Textile Samples
Objectives
Methodology
Results
Interim Conclusions
Zooarchaeological Analysis
Objectives
Methodology
Results
General Excavation
Burial #24
Burial #39 Artifacts
Burial #39 Problematic Deposit
Conclusions
Artifact Analysis
Objectives
Methodology & Results
Ceramics
Lithics
Groundstone
Special Finds
Interim Conclusions
Conclusions
Acknowledgements
List of Figures
Sources Cited

Monumental architecture at the Mirador Group defined an area of ritual importance to the ancient Maya of El Perú-Waka'. Four seasons of excavation in this complex produced significant numbers of carbon, matrix and textile samples warranting analysis for two reasons: first, radiometric dates provide a baseline to cross-check dates acquired through ceramic analysis, for both the Mirador and the entire site. Second, analyses of matrix, mineral, pigment and textile samples collected primarily from tomb contexts are critical as these fine-grained data are integral components of complex ritual burial tableaux, yet may be overlooked relative to other tomb artifacts. During the course of this project, specialists were contracted to analyze samples using accelerator mass spectrometry (AMS), Fourier transform infrared spectroscopy (FTIR) and scanning electron microscopy with energy dispersive x-ray (SEM-XEDS). The originally proposed project was expanded to also include zooarchaeological, lithic and ceramic analysis.
La arquitectura monumental en el Complejo Mirador caracterizó una área de importancia ritual para los antiguos mayas de El Perú-Waka'. Cuatro temporadas de excavación realizada en este complejo han producido cantidades significativas de muestras de carbón, de matriz y de tejidos, que justifican el análisis por dos razones: La primera es que las dataciones radiométricas proporcionarán una base de referencia para la verificación cruzada de las dataciones obtenidas por medio del análisis de la cerámica, tanto del Complejo Mirador como del sitio entero. La segunda razón es que los analices de las muestras de matriz, de minerales y de pigmento, recogidas en los contextos de las tumbas, son esenciales, ya que estos datos sutiles son componentes integrantes de los intrincados rituales de entierro, datos, los cuales no obstante pueden pasarse por alto en relación a los otros artefactos de las tumbas. Durante el curso de este proyecto, contrataron a los especialistas para analizar muestras usando las técnicas conocidas como espectrometría de masa con aceleradores (AMS), espectroscopía infrarroja por transformación de Fourier (FTIR) y microscopio electrónico de barrido con análisis por dispersión de energía de rayos X (SEM-XEDS). El proyecto original fue ampliado para incluir analices zooarqueológicos, de la lítica y también de la cerámica.
---
Click to download the report in PDF format:
Analysis of Samples and Artifacts from the Mirador Group, El Peru-Waka' (3.50 MB)
The PDF files require Adobe Acrobat Reader.
To download the latest version, click the Get Acrobat Reader button below.

Submitted 10/14/2008 by:
Michelle Rich
Department of Anthropology
Southern Methodist University
mrich@smu.edu