A Facsimile Edition of Mapa de Oztoticpac
Vea este informe en Español.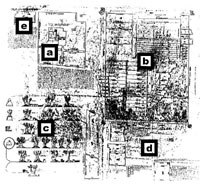 Research Year: 1996
Culture: Aztec
Chronology: Post Classic
Location: Northease México, Near Texcoco
Site: Unknown
Table of Contents
Facsimile Editions
The Mapa de Oztoticpac
Accomplishments
Previous Works on the Mapa de Oztoticpac

Fortunately there is now a serious movement to publish Mesoamerican pictographic documents and it promises to continue through the 1990's. Working directly with originals has become more and more difficult. Codices are scattered throughout several countries; they are fragile and many are in an advanced state of deterioration. Institutions have imposed ever greater restrictions to check their holdings and, in spite of technical advances in preservation, the loss of data is irremediable since, for example, colors fade and change over time. For those reasons, publishing facsimiles is the only way to create a solid corpus of new and efficient instruments to work with.
---
Click to download the report in PDF format:
A Facsimile Edition of Mapa de Oztoticpac (912 KB)
The PDF files require Adobe Acrobat Reader.
To download the latest version, click the Get Acrobat Reader button below.

Submitted 08/01/1996 by: