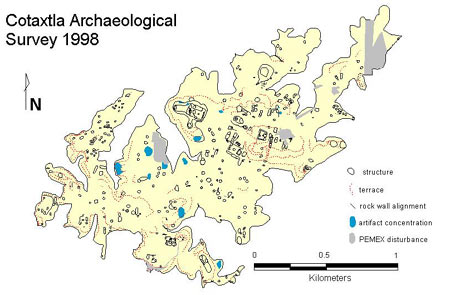 Research Year: 1998
Culture: Azteca
Chronology: Post Classic
Location: Veracruz, México
Site: Cotaxtla
Table of Contents
Introduction
Field Research and Results
Settlement Patterns
Craft Production
Aztec Imperial Presence
Conclusions
Acknowledgements
List of Figures
Sources Cited
The Cotaxtla Archaeological Survey was undertaken to investigate aspects of social and economic organization at the Postclassic period (A.D. 900-1200) center of Cotaxtla, Veracruz, México, a Gulf lowland provincial capital conquered by the Aztec empire. Previous research has shown that dramatic cultural and economic changes mark the transition from the Classic (A.D. 300-900) to the Postclassic periods in south-central Veracruz (Curet et al. 1994; Daneels 1997). The growth of trade and marketing in Mesoamerica and Aztec imperial expansion into the Gulf lowlands may have been among the factors involved.
Field research at Cotaxtla was geared to collect data pertaining to three key issues: the site's settlement patterns (i.e., its internal organization), it's economic roles, and the material remains associated with Aztec imperialism. Prior research in the region suggests that Postclassic settlement was more nucleated than during the Classic period (e.g., Brüggemann et al. 1991; Curet et al. 1994). Verifying this trend at Cotaxtla was one project goal. Settlement nucleation can involve related aspects of social differentiation associated with increasing urbanism, and documenting Cotaxtla's internal organization and settlement pattern was crucial to understanding social organization at this center.
The project also was designed to evaluate evidence for craft specialization, which was expected as a result of broader Postclassic economic changes, including increased trade and marketing throughout Mesoamerica (Berdan 1996; Blanton et al. 1981), and also as a result of Cotaxtla's nucleated setting, where consumer demand could support specialization. The economic data recovered could also help clarify recent models of local economic organization, which have struggled between horizontally or vertically integrated characterizations (Heller and Stark 1999; Stark 1992).
A final goal of the project was to document material remains associated with Aztec conquest and administration, and assess these data to better understand Aztec strategies of provincial control. The Aztec empire has traditionally been regarded as an hegemonic empire, employing mainly indirect means of provincial administration (Hassig 1984; 1985). In recent efforts to better understand Aztec imperial strategies, Berdan et al. (1996) classified the outer provinces as either tributary or strategic in nature, which helped clarify aspects of imperial interests in provincial areas and identify some of the variability in provincial organization. Because of the lack of research in provincial areas of the Aztec empire, however, many important questions remain concerning imperial methods of provincial governance or control (i.e., integration). Research in other imperial contexts suggests that imperial administration may be more "mosaic-like," with considerable spatial and temporal variation in degrees of direct/indirect administration (e.g., Schreiber 1992). Ethnohistoric accounts indicate that Cotaxtla housed Aztec officials, a garrison of Aztec soldiers, and possibly additional colonists (e.g., Durán 1967, 2:182-183; Torquemada 1969, 1:162; Umberger 1996). Thus, there exists a good potential for documenting and interpreting Aztec presence in the archaeological record, which previously has been done systematically for only a few outer provincial locations (Smith 1992; Smith and Berdan 1992; Smith and Heath-Smith 1994; Stark 1990; Voorhies 1989). Because of it's moderately rich ethnohistoric documentation, it's status as a capital town, and a rich archaeological record attested to by Medellín (1949), Cotaxtla provided a strategic location to investigate these social and economic issues.
---
Click to download the report in PDF format:
The Cotaxtla Archaeological Survey: Results of the 1998 Field Season (638 KB)
The PDF files require Adobe Acrobat Reader.
To download the latest version, click the Get Acrobat Reader button below.

Submitted 07/01/1999 by:
Michael A. Ohnersorgen
Department of Anthropology
Arizona State University