Early Copán Acropolis Program 1999 Field Season
Vea este informe en Español.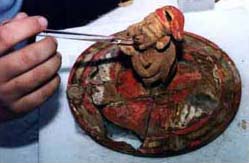 Research Year: 1999
Culture: Maya
Chronology: Early Classic
Location: Copán, Honduras
Site: Copán Acropolis
Table of Contents
Introduction
Conservation
Documentation
Analyses
List of Figures
The second phase of research conducted by the Early Copán Acropolis Program (ECAP) completed its second season in 1999, comprising the documentation, conservation, and analysis of recovered archaeological materials from the tunnel network excavated beneath the Copán Acropolis. Much of this current research is funded by The Foundation for the Advancement of Mesoamerican Studies, Inc. (Grant 98005). The ECAP research has been directed since 1989 by two University of Pennsylvania Museum archaeologists, Dr. Robert J. Sharer (Director) and David W. Sedat (Field Director). The following is a brief summary of ECAP's research during the 1999 field season (January 17-April 30) at Copán, Honduras.
---
Click to download the report in PDF format:
Early Copán Acropolis Program 1999 Field Season (312 KB)
The PDF files require Adobe Acrobat Reader.
To download the latest version, click the Get Acrobat Reader button below.

Submitted 05/01/1999 by:

Univ. of Penn Museum, Philadelphia