The Northern Belize Coastal Project, 1999
Vea este informe en Español.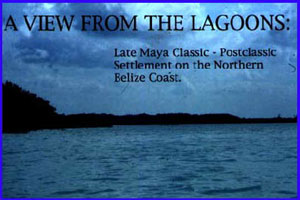 Research Year: 1999
Culture: Maya
Chronology: Late Classic, Post Classic, and Terminal Classic
Location: Belize
Site: Saktunja
There was much commerce, both domestic and foreign, and trade was, as in México, a highly honorable calling, especially when conducted on a large scale. The son of the last Cocom ruler of Mayapán was in Honduras on a trading expedition at the time of the fall of that city. Merchants ranged from the wealthy and noble wholesalers, who had their own factors, trading canoes, and slave carriers, to the petty itinerant who carried his own pack. Once there had been wide causeways across the country, leading to certain centers of pilgrimage, but at the time of the conquest they were completely a thing of the past and had probably not been used for centuries. Roys 1943:51
Table of Contents
Introduction
Saktunja: Background Information of Field Investigations
Field Research: Mapping and Survey
Operation 1A-Structure 1
Operations 3A, 4A, Structures 14 and 15
An Enterprising Community: Salt making, Fishing, Shell Working, and Trade
Shell Working
Ceramic Analysis
Stone Tool Analysis
Conclusions
List of Figures
Sources Cited
The Northern Belize Coastal Project (NBCP, 1987-1999) continues to focus on survey and excavation of sites in the archipelago of lagoons lining the northern coast of Belize (Figure 2, and Figure 3). Some of the sites such as Marlowe Cay and Rocky Point (Figure 2, and Figure 4) are former islands that have been incorporated into these configurations by complex sedimentation processes. An increase in the settlement and utilization of these frontier settlements is particularly notable during the Late to Terminal Classic period (circa A.D. 680-900) with lingering populations up until Spanish contact (A.D. 1500). Despite the remoteness of many of these coastal sites today, archaeological evidence points to their participation in the mainstream of Maya culture, playing pivotal roles in socioeconomic, political, and ideological relationships with inland sites (e.g., Graham and Pendergast 1989).
---
Click to download the report in PDF format:
The Northern Belize Coastal Project, 1999 (591 KB)
The PDF files require Adobe Acrobat Reader.
To download the latest version, click the Get Acrobat Reader button below.

For additional information about the ongoing Northern Belize Coastal Project (NBCP) contact:
Submitted 03/01/2000 by:

University of Texas at San Antonio
Institute of Texan Cultures