After the Fall: Examining the nature of the Classic Maya collapse of Copán, Honduras
Vea este informe en Español.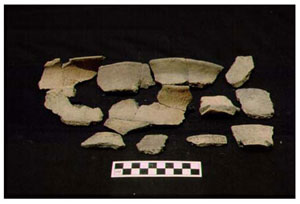 Research Year: 1999
Culture: Maya
Chronology: Late Classic to Post Classic
Location: Copán, Honduras
Site: Copán Valley
Table of Contents
Introduction
Objectives
Preliminary Results
Laboratory
Fieldwork
Conclusions
Sources Cited
The Classic Maya collapse at Copán, Honduras continues to generate controversy. Although most scholars generally concede agreement as to the factors that precipitated dynastic collapse in the Ninth Century A.D., the severity and timing of these sociopolitical processes continue to be debated. In this light the Copán Postclassic Archaeological Project (CPAP) was initiated in 1995 to address these questions in a novel manner, by reconstructing demographic trends from the Early Postclassic period (A.D. 1000-1200) backwards in time to the time of dynastic collapse. Thus by studying the ultimate occupants of the site, it is hoped that this research will not only better define a contentious period in the history of the site, but also offer insight into the nature of the Late Classic collapse.
Previous fieldwork conducted by the author has yielded a well defined Postclassic phase filling the period from A.D. 1000 to 1200 which is substantially larger and more robust than what one would expect if the phase merely represented a residual surviving non-elite population which survived the Late Classic collapse. Research conducted between 1995 and 1999 identified a very small yet discrete Early Postclassic village within 200 meters of the site center in an area of dense settlement to the south of the Main Group. These new data differ significantly from established Late Classic patterns of settlement, architecture, lithic procurement and production, ceramic production, and long-distance trade, suggesting that the Early Postclassic period may represent a disruption of the local chronology.
---
Click to download the report in PDF format:
After the Fall: Examining the nature of the Classic Maya collapse of Copán, Honduras (153 KB)
The PDF files require Adobe Acrobat Reader.
To download the latest version, click the Get Acrobat Reader button below.

Submitted 03/01/2000 by:


Vanderbilt University, Nashville, TN