Tracing Louis H. Ayme's Explorations in Oaxaca, México, 1884-1885
Vea este informe en Español.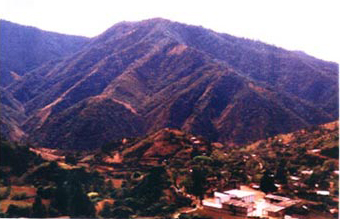 Research Year: 1999
Culture: Zapotec
Chronology: Classic
Location: Oaxaca, México
Site: Santa Maria Coatlan
Table of Contents
Abstract
Resumen
Introduction
Research Goals
Methodology and History of Research
Conclusions and Continuing Research
Acknowledgements
List of Figures
Sources Cited
This report details some aspects of research tracing an early example of the gathering of Pre-Columbian archaeological objects in Oaxaca, México. It focuses on the work of Louis H. Ayme at Santa Maria Coatlan, one of two locations where he excavated in 1884-1885. His records of exploration and collecting in two caves, still important in the life of this Zapotec village, provide an opportunity for studying both the objects that he recovered and the importance of caves in this part of Oaxaca. Ayme's work helps document a particular case of ritual cave usage in Mesoamerica, a tradition dating from Pre-Columbian times, which sometimes continues into the present. It also provides several opportunities for learning more about Santa Maria's role in this poorly understood area of Oaxaca.
En este informe se detallan algunos aspectos de la investigación que rastrea un ejemplo temprano del coleccionismo de objetos arqueológicos precolombinos en Oaxaca, México. Está centrado en el trabajo de Louis H. Ayme en Santa María Coatlan, una de las dos localizaciones en las que excavó en 1884-1885. Los registros que realizó de la exploración y recolección de dos cuevas que aún soy importantes en la vida de esta aldea zapoteca, proporcionan la oportunidad de estudiar tanto los objetos que él recuperó como la importancia de las cuevas en esta parte de Oaxaca. El trabajo de Aymes ayuda a documentar un caso particular deñ uso ritual de cuevas en Mesoamérica, una tradición que data de los tiempos precolombinos, y que algunas veces sigue vigente en el presente. También proporciona algunas oportunidades para ampliar nuestros conocimientos sobre el papel que desempeñó Santa María en esta zonade Oaxaca, insuficientemente comprendida.
---
Click to download the report in PDF format:
Tracing Louis H. Ayme's Explorations in Oaxaca, México, 1884-1885 (445 KB)
The PDF files require Adobe Acrobat Reader.
To download the latest version, click the Get Acrobat Reader button below.

Submitted 08/30/2002 by: