The Palenque Mapping Project, 1999 Field Season Report
Vea este informe en Español.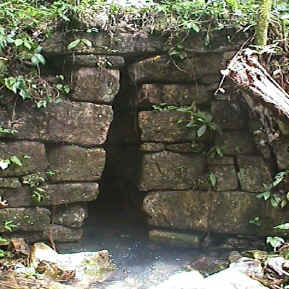 Research Year: 1999
Culture: Maya
Chronology: Classic
Location: Chiapas, México
Site: Palenque
Table of Contents
The Palenque Mapping Project: 1999 Field Season Report
Introduction
Methodology
Survey/Mapping
Structure Designation
Discussions by Group
Group J West
The Motiepa East Group
The Motiepa Group
Moises' Retreat
Group G
The Xinil Pa' Group
The Piedras Bolas Group
The Olvidado Group
The Picota Group
The Lemon Group
The Nauyaka Group
The Escondido Group
Summation
Sources Cited
Architectural Analysis in Western Palenque by James Eckhardt and Heather Hurst
Palenque's Water Management by Kirk D. French
This report covers the results of the 1999 survey of Palenque's western region, an area stretching from the Motiepa River to the structures around the Picota River (Map 1). Discussions of Palenque's central region, between the Motiepa and Otulum Rivers, can be found in the PMP 1998 Report. A total of 635 structures were encountered during the survey. Added to the 1998 total of 403, a grand total of 1038 structures have now been documented and placed on the map. Compared to the 107 structures recorded to the west of the Motiepa River on M.G. Robertson's map (1983), a total of 528 structures are presented for the first time in this report. The majority of Palenque's western settlement was built upon a flat, east-west running plateau, the same plateau utilized by the structures of Palenque's central precinct. Further settlement extends above and below the plateau, built upon platforms and massive terraces protruding from the hillsides. The areas around the Motiepa, Piedras Bolas and Picota Rivers are densely covered with small residential structures. All three rivers contain evidence of water management architecture. Furthest west, around the Picota River, the constructions are larger and appear to be public spaces. Features including the Olvidado Temple, two temples directly to the west of the Olvidado, the Picota Complex (plaza, aqueduct and stela), and the newly documented Escondido Platform combine to create the impression that a second "center" existed at Palenque. This newly recognized "center" and the residential areas between it and Palenque's primary center will be discussed in the sections that follow.
---
Click to download the report in PDF format:
The Palenque Mapping Project, 1999 Field Season Report (1.74 MB)
The PDF files require Adobe Acrobat Reader.
To download the latest version, click the Get Acrobat Reader button below.

Submitted 11/01/1999 by:

Univ. of Texas, Austin