Analysis and Conservation of a Wooden Figurine
Recovered from Xmuqlebal Xheton Cave in Southern Belize, C.A.
Vea este informe en Español.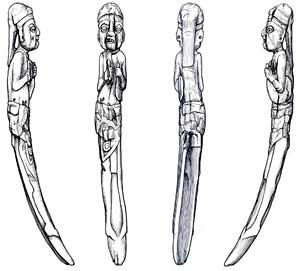 Research Year: 1999
Culture: Maya
Chronology: Late Classic
Location: Mountains of Southern Belize
Site: Xmuqlebal Xheton Cave
Table of Contents
Introduction
The Setting
The Archaeology of Xmuqlebal Xheton Cave
Discussion of the Radiocarbon Dates
Interpretation of the Figurine
Conservation and Analysis of the Figurine
Conclusions
Acknowledgements
List of Figures
Sources Cited
In 1999 a small wooden figurine was recovered from a cave located near the Late Classic center of Muklebal Tzul in the Maya Mountains of southern Belize. The form of the artifact indicates that it may be a 'manikin scepter,' an image depicted in Late Classic art that has been described an emblem of divine kingship. The context of its recovery combined with current knowledge of the function of other wooden ceremonial figurines during the Postclassic and historic periods may broaden our understanding of how staffs, scepters, and figurines were used in Maya prehistory.
The figurine is quite small, measuring 23 cm in length. It depicts a male individual, clothed in a loincloth or skirt. He is holding a fan in the left hand and was holding an object in the right hand, which has broken away, likely in antiquity, and was not found. The back of the artifact is deeply fluted, and it was at one time likely intended to have been affixed to a ceremonial staff or stave. The artifact was carved from a single piece of wood that has been tentatively identified as from the tropical cedar family (Cedrela sp.).
With the assistance of the Foundation for the Advancement of Mesoamerican Studies, Inc. (FAMSI), the object was removed from Belize for analysis and conservation at the Smithsonian Center for Materials Research and Education (SCMRE). This report briefly discusses the archaeology of the cave from which it was recovered, preliminary observations on the iconography of the object, and the results of laboratory analysis.
---
Click to download the report in PDF format:
Analysis and Conservation of a Wooden Figurine
Recovered from Xmuqlebal Xheton Cave in Southern Belize, C.A. (1.19 MB)
The PDF files require Adobe Acrobat Reader.
To download the latest version, click the Get Acrobat Reader button below.

Submitted 06/01/2001 by: