The Preclassic Whole Vessels of Lamanai, Belize: A Final Report
Vea este informe en Español.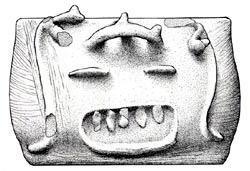 Research Year: 2000
Culture: Maya
Chronology: Middle Pre-Classic, Late Pre-Classic, and Proto-Classic
Location: Northern Belize
Site: Lamanai
Table of Contents
Introduction
Ceramic Research
Ceramic Illustration and Photographic Record
Concluding Remarks
Acknowledgements
List of Figures
Sources Cited
Between 1974 and 1986 archaeological investigations were undertaken at the Maya site of Lamanai, located on northwestern shore of the New River Lagoon in northern Belize (Figure 1). Excavations at the site were carried out by David Pendergast of the Royal Ontario Museum. The site of Lamanai has a long, uninterrupted stratified sequence of occupation spanning the Middle Preclassic (900-300 B.C.) period through the Historic (17th Century) period (Pendergast 1981a). A total of 718 structures were mapped at Lamanai, of which 37 were excavated. Primary deposits dating to the Middle Preclassic (900-300 B.C.) and Late Preclassic (300 B.C. - A.D. 250) periods were exposed in eleven of these sampled structures, about 25% of the total surveyed.
Among the artifacts recovered during the 1974-86 excavations were a significant number of whole and complete ceramic vessels dating to both the Middle and Late Preclassic periods. The Preclassic ceramic assemblage offers an interesting opportunity for analysis. To date, the assemblage consists of five Middle Preclassic and 132 Late Preclassic vessels recovered from such primary contexts as burials, caches, middens, hearths, sherd features, and rock features in pyramidal structures (Structures N10-9, N10-27, N10-43, P8-9, P9-2), residences (Structures N10-2, P8-11, P8-14, P8-27, P8-103, YDL II-7), and a subterranean feature (Chultún P8-2) (Powis, 1999; 2000). Approximately 35% of the Late Preclassic ceramic assemblage comes from a large Protoclassic (50 B.C. - A.D. 250) chultún (P8-2) discovered at the north end of the site (Pendergast, 1981b; 1981c). Much of the Preclassic settlement at Lamanai is dispersed within a two kilometer strip along the lagoon. To date, it appears that the earliest settlements were located in the north (harbor area), with a shift southward in later times as changes in the lagoon environment may have made the northern area less attractive for habitation.
Since the ceramic assemblage had already been excavated and is stored in the on-site open-air museum at Lamanai, my dissertation research consisted entirely of laboratory analyses. In the summers of 1998 and 1999, prior to my work funded by FAMSI, reconstruction and conservation of the Preclassic vessels was undertaken with the permission of Elizabeth Graham, director of the Lamanai Archaeological Project (LAP). Because of the daily exposure to pests (e.g. bats, spiders, insects) and the weather, immediate action was required before the entire Preclassic ceramic assemblage was permanently damaged. In June, 2000 my research at Lamanai focused on the typological and contextual analyses of the Preclassic assemblage as well as the complete documentation of each vessel through artifact illustration and still and digital photography. Both goals were achieved during this four week research period.
---
Click to download the report in PDF format:
The Preclassic Whole Vessels of Lamanai, Belize: A Final Report (657 KB)
The PDF files require Adobe Acrobat Reader.
To download the latest version, click the Get Acrobat Reader button below.
Submitted 03/01/2001 by: