Investigations at an Olmec Community
Vea este informe en Español.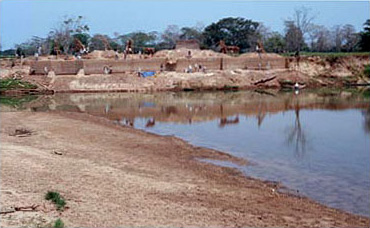 Research Year: 2000
Culture: Olmec
Chronology: Early Pre-Classic
Location: San Lorenzo Tenochtitlán, México
Site: El Bajío
Table of Contents
Introduction
Settings
Fieldwork
Tentative Results and Preliminary Observations
Paleoethnobotanical Analysis
Pollen Analysis
Phytolith Analysis
Significance of Research
Acknowledgements
List of Figures
Sources Cited
Excavations were undertaken between February and June 2000 at the Early Preclassic site of El Bajío located in the hinterlands of San Lorenzo Tenochtitlán (Figure 1) in order to better understand community and household organization at a small Olmec period site. The fundamental goal of the investigation was to collect household and community level data from which we can suggest the nature of domestic organization, site composition, the degree of community nucleation/dispersion, and subsistence systems of a small Olmec community. The site of El Bajío (Figure 2) was the ideal location for the investigations since it is a small Early Preclassic period community situated within the archaeologically rich El Remolino settlement cluster (Figure 3) (see Coe and Diehl, 1980a:19, 36-37, 47-51, 159, 373; Fig. 8; Stirling, 1947:170-171; 1955:7) and since it had a cut profile that exposed a 55 meter long and 1½ meter thick, dark stain representing the Early Preclassic occupation surface.
---
Click to download the report in PDF format:
Investigations at an Olmec Community (256 KB)
The PDF files require Adobe Acrobat Reader.
To download the latest version, click the Get Acrobat Reader button below.
Submitted 09/18/2001 by: