Economic Foundations of Olmec Civilization in the Gulf Coast Lowlands of México
Vea este informe en Español.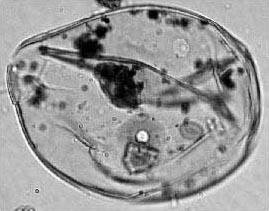 Research Year: 2000
Culture: Olmec
Chronology: Middle Pre-Classic
Location: San Andrés, Tabasco, México
Site: San Andrés
Table of Contents
Abstract
Resumen
Background
Field Work
Analysis of SAV4 Core from San Andrés
Source Cited

Paleoecological research was conducted on the transition from foraging to agriculture in the Gulf Coast Lowlands of Tabasco, México. The objective was to uncover the cultural and economic bases that led up to Mesoamerica's first civilization, the Olmec. Pollen revealed the presence of an early cultivated maize ancestor (Zea) at about 5100 cal B.C. and domesticated maize (Zea mays) consistent with modern maize plants about one hundred years later. Manioc (Manihot sp.) pollen suggests that this tuber was also cultivated by 4600 cal B.C. These data provide the earliest evidence for maize cultivation in México and show that the Olmec civilization built on a long tradition of farming of various crops in the area.
En las tierras bajas de la Costa del Golfo, en Tabasco, México, se han realizado investigaciones de paleoecología sobre la transición del forraje a la agricultura. El objetivo era develar las bases culturales y económicas que llevaron a la aparición de la primera civilización mesoamericana, la olmeca. El polen reveló la presencia de un antepasado temprano del maíz cultivado (Zea), alrededor del 5100 cal a.C., y de maíz domesticado (Zea mays), consistente con las plantas modernas de maíz de aproximadamente cien años después. El polen de mandioca (Manihot sp.) sugiere que este tubérculo también se cultivaba alrededor del 4600 cal. a.C. Estos datos aportan la evidencia más temprana del cultivo del maíz en México, y demuestran que la civilización olmeca estuvo basada en una larga tradición de cultivo de distintas plantas comestibles en esa área.
---
Click to download the report in PDF format:
Economic Foundations of Olmec Civilization in the Gulf Coast Lowlands of México (243 KB)
The PDF files require Adobe Acrobat Reader.
To download the latest version, click the Get Acrobat Reader button below.
Submitted 03/19/2001 by: