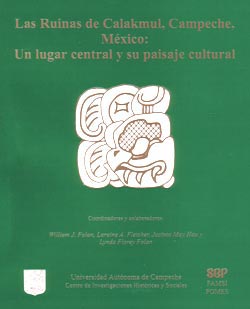 Research Year: 2000
Culture: Maya
Chronology: Preclassic, and Classic to Late Classic
Location: Campeche, México
Site: Ruins of Calakmul
Table of Contents
PROLOGO

(PREFACE)

RECONOCIMIENTOS

(ACKNOWLEDGEMENTS)

INTRODUCCIÓN

(INTRODUCTION)

HISTORIA DEL PROYECTO (

HISTORY OF THE PROJECT

)
ANTECEDENTES

(BACKGROUND)

EL MAPA

(THE MAP)

: Jacinto May Hau, Rogerio Couoh Muñoz and William J. Folan

I

AMBIENTE GEOGRÁFICO

(GEOGRAPHICAL SETTING)

II

TEXTOS DINÁSTICOS

(DYNASTIC TEXTS)

: Joyce Marcus

III

PATRÓN DE ASENTAMIENTO

(SETTLEMENT PATTERN)

: Laraine A. Fletcher, William J. Folan, Jacinto May Hau and Lynda Florey Folan
3.1
LA INVESTIGACIÓN

(THE RESEARCH)

3.2
LOS RASGOS ARQUITECTÓNICOS: DESCRIPCIÓN Y DISTRIBUCIÓN

(ARCHITECTURAL FEATURES: DESCRIPTION AND DISTRIBUTION)

3.2.1
PLATAFORMAS / TERRAZAS

(PLATFORMS / TERRACES)

3.2.1.1
Plataformas basales con superestructuras


(Basal Platforms with Superstructures)

3.2.1.2
Plataformas sin superestructuras visibles


(Platforms with no Visible Superstructures)

3.2.2
ESTRUCTURAS

(STRUCTURES)

3.2.2.1
Estructuras sin bóvedas: absidales y redondas


(Structures with no Vaults: Absidal and Round)

3.2.2.2
Edificios abovedados

(Vaulted Buildings)

3.2.3

OTROS RASGOS

(OTHER FEATURES)

3.2.3.1
RUTAS, CALZADAS Y SENDEROS: EN LA PISTA DEL PASADO DE CALAKMUL, CAMPECHE

(ROUTES, CAUSEWAYS AND PATHS: TRACKING CALAKMUL'S PAST IN CAMPECHE)

: William J. Folan, Jacinto May Hau, Joyce Marcus, W. Frank Miller and Raymundo González Heredia
3.2.3.2
CHULTUNO'OB: Alicia Zapata Castorena
3.2.3.3
AGUADAS: William J. Folan, María del Rosario Domínguez Carrasco and Jacinto May Hau
3.2.3.4
CANTERAS

(QUARRIES)

: Judith Gallegos Gomora and Jacinto May Hau
3.2.3.5
ALTARES

(ALTARS)

IV

CERÁMICA, FIGURILLAS Y LÍTICA

(CERAMICS, FIGURINES AND LITHICS)

4.1
CERÁMICA

(CERAMICS)

: María del Rosario Domínguez Carrasco and William J. Folan
4.2
FIGURILLAS E INSTRUMENTOS MUSICALES

(FIGURINES AND MUSICAL INSTRUMENTS)

: Roberto Ruíz Guzmán
4.3
LÍTICA

(LITHICS)

: María del Rosario Domínguez Carrasco, Joel D. Gunn and William J. Folan
4.3.1.
Factor 1 (MANOS Y METATES)

(MANOS and METATES)

4.3.2.
2a Factor 2 (PUNTAS DE BASE ANCHA CON MUESCAS)


(WIDE BASE POINTS WITH GROOVES)

4.3.3.
2b RASPADOR - PUNTA

(SCRAPER - POINT)

4.3.4.
3a Factor 3 (OBSIDIANA)

(OBSIDIAN)

4.3.5.
3b MACERADORES - MANO

(MACERATORS - MANO)

4.3.6
Factor 4 (CINCELES - DENTICULADOS - BASES RECTAS)


(CHISELS - DENTICULATE - STRAIGHT BOTTOMS)

4.3.7
Factor 5 (PUNTAS DOBLES - PULIDOR)


(DOUBLE POINTS - POLISHER)

4.3.8
Factor 6 (AZADONES - PEQUEÑAS BASES DE PUNTAS)


(HOES - SMALL POINT BASES)

V

LOS RESTOS HUMANOS: FUNERARIOS Y EXTRAFUNERARIOS

(HUMAN REMAINS: FUNERARY AND EXTRAFUNERARY)

: Vera Tiesler Blos, María del Rosario Domínguez Carrasco, William J. Folan and Mario A. Coyoc Ramírez

VI

DEMOGRAFIA

(DEMOGRAPHY)

6.1
DEMOGRAFIA URBANA

(URBAN DEMOGRAPHY)

: Laraine A. Fletcher and James Gann
6.2
DEMOGRAFIA REGIONAL

(REGIONAL DEMOGRAPHY)

: William J. Folan, Abel Morales López, Raymundo González Heredia and Geoffrey Braswell

COMENTARIOS

(COMMENTS)

: Laraine A. Fletcher, William J. Folan, Jacinto May Hau and Lynda Florey Folan

CONSIDERACIONES FINALES

(FINAL CONSIDERATIONS)

BIBLIOGRAFIA

(BIBLIOGRAPHY)

TABLA DE FIGURAS

(TABLE OF FIGURES)

APENDICES

(APPENDIXES)


A Mapa general de Calakmul (30km2)


(General Map of Calakmul)


B Plano Topográfico de Curvas de Nivel de Calakmul (30km2)


(Contour Line Topographic Map of Calakmul)




C Plano de Calakmul presentado en 30 hojas en escala 1: 2000




(Plan of Calakmul presented in 30 pages, scale 1: 2000)
HISTORY OF THE PROJECT
Calakmul is located in the southeastern portion of the state of Campeche, in the new ecological township of Calakmul, at 18º 06' 31" latitude N and 89º 48' 17" longitude W, 240.51 meters above sea level (Figure 1). The central core lies on an artificially leveled large dome of approximately 2.5 km2, surrounded by streams, bajos and irrigation channels (Domínguez and Folan, 1996; Folan and May Hau, 1984). In general terms, being the constructions distributed along the bajo bank of the river known as "El Laberinto", it could be said that Calakmul looks like a lacustrine city (Folan, 1985a), an issue which is now under investigation (Gunn et al., 2000). Early in the project, access to Calakmul was only possible through a timber breach that began at kilometer 95.5 of the Escárcega-Chetumal road, about two kilometers east from the Conhuás common lands. To reach Calakmul, we were forced to cross some 35 km of bajos of a road 65 km long, which was in very bad shape. At times, during the rainy season, the trip would take three or four days. After the beginning of the construction of a modern highway to Calakmul in 1984, the first 24 earth-filled kilometers that lead to the archaeological site made the trip much easier than it used to be. The road leading to the ruins was completed in 1993-1994. Today, even tourists are able to easily reach Calakmul.
Calakmul is a Maya site that dates from the Preclassic and Classic periods (600 B.C. to 900 A.D.), with indications of ceremonial visitors during the Postclassic. The site has been long considered a significant locus, but in spite of this, only one portion of the core had been surveyed, first by Calakmul's discoverer Dr. Cyrus L. Lundell (1933: Fig. 2), (Figure 2) back in 1931, who visited the place together with two chicleros from the Central Buenfil, and later by Architect John Bolles of the Carnegie Institution of Washington (in Ruppert and Denison, 1943). In addition to Bolles' map (Figure 3), Ruppert concentrated for quite a long time on the detailed study of the site's major architecture. Dr. Sylvanus G. Morley (1933) showed a particular interest in analyzing more than 80 stelae present in the place, a number that has now climbed to 119 (Pincemin, Marcus, Florey Folan, Folan, Domínguez Carrasco and Morales López, 1998).
In 1933, the archaeologist Enrique Juan Palacios (1937) from the Dirección de Arqueología de México, made a reconnaissance trip to Calakmul to verify the data provided by the Carnegie Institution. Gustavo Stromsvik excavated stratigraphic pits (see Smith, 1955), and conducted a study on the metates from Calakmul (Stromsvik, 1937), while Francis Morley took pictures and made a movie exhibiting a technique used to lift a fallen stela from Calakmul (Morley, 1932: field notes).
---
Click to download the report in PDF format:
Publication: Las Ruinas de Calakmul, Campeche, México: Un lugar central y su paisaje cultural (491 KB)
The PDF files require Adobe Acrobat Reader.
To download the latest version, click the Get Acrobat Reader button below.

Submitted 07/01/2001 by:


Information on this Publication:
"Las Ruinas de Calakmul, Campeche, México: Un lugar central y su paisaje cultural"
First Edition: 2001
© Universidad Autónoma de Campeche
Ciudad Universitaria, Campeche, Camp., México
Centro de Investigaciones Históricas y Sociales
Dirección de Servicios Educativos de Apoyo
ISBN 968-6585-81-8