The Recipe for Rebirth: Cacao as Fish in the Mythology and Symbolism of the Ancient Maya
by Michael J. Grofe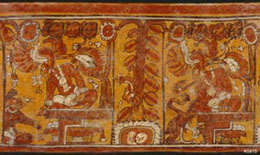 Table of Contents

Abstract
Introduction
The Cacao Tree and the Maize Deity
The Cacao Tree and the Calabash
Fertility and Humanity: Cacao and the Resurrection of Maize
Cacao and the Hero Twins
Cacao and Fish
Iconographic Respresentations of Fish Transformation
Evidence from Izapa
Evidence from the Classic Period
Maize and Fish
The Aztec Sun of Water
Fish-Man and Water bird: GI of the Palenque Triad and Quetzalcoatl-Ehecatl
Fish and Rain
GI and Quetzalcoatl: Venus and the Sun
The Death and Rebirth of the Sun: Hunahpu, Nanahuatzin and GI
Many in One
The K'iche' Tradition of Cacao
Conclusion
References
In the K'iche' Popol Vuh, the head of Hun Hunahpu is likened to a calabash gourd, and in Classic Period iconography, to a cacao pod. This association with cacao continues in Hun Hunahpu's offspring, the Hero Twins. Their self-sacrifice in the underworld parallels the stages of cacao processing: entrance into the underworld (burial, fermentation), burning (roasting), grinding of their bones on a metate, and pouring them into water. Subsequently, the twins are reborn as two fish. The first syllables of kakaw are homophonous with the first consonant and vowel in the proto-Mayan words for 'two', *ka, and 'fish', *kar. A visual representation of this wordplay occurs in glyphic spellings of kakaw, in which a fish, or a fish fin, is read as the syllable ka. The association between cacao and fish can subsequently be traced through mythology and iconographic representations, providing insight into the metaphorical value of cacao as a potent symbol of rebirth.
Click to download the complete report in PDF format:
The Recipe for Rebirth: Cacao as Fish in the Mythology and Symbolism of the Ancient Maya ( 3.30 MB)
The PDF files require Adobe Acrobat Reader.
To download the latest version, click the Get Acrobat Reader button below.
Submitted 04/15/2009 by:

Department of Native American Studies
University of California at Davis