ANCIENT BOOKS: Mixtec Group Codices
CODEX SELDEN/CODEX AÑUTE
History of the Codex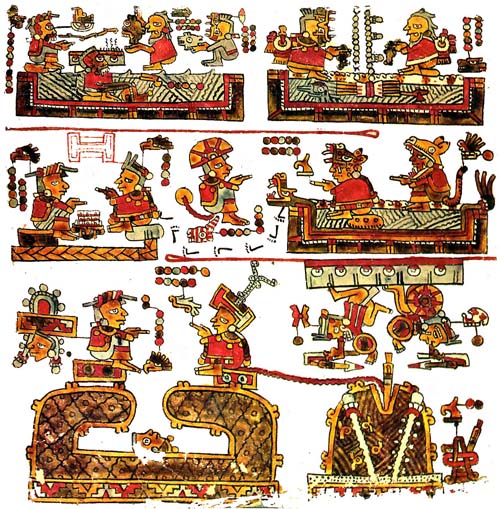 Codex Selden is a Mixtec screenfold manuscript located in the Bodleian Library at Oxford University. It was acquired by the library from the estate of John Selden, the reknowned jurist, legal antiquary and oriental scholar. An artistic rendering of the manuscript was first published by Lord Kingsborough in his monumental ten volume series, Antiquities of Mexico, published between 1831-1848. Photos of a portion of the actual manuscript accompanied Herbert Spinden's ground-breaking treatise on the Six Monkey story extending over pages 6-8 (Spinden 1935). A complete photographic facsimile was published with a commentary by Alfonso Caso in 1964.
John Selden died in 1654 but the last date associated with the genealogy in the manuscript is the Mixtec year 11 Flint which corresponds to A.D. 1556. A date on the cover of the manuscript (2 Flint) may correspond to 1560 (M.E. Smith 1994:122-123). How the codex got from the Mixteca-Alta, Oaxaca, into the hands of Selden remains a mystery. Smith thinks that Codex Selden was composed by the community of Jaltepec, located in the southern Nochixtlán Valley for presentation to Spanish and Indian authorities with regard to a dispute over a subject town.
The town in question was called Zahuatlán and it is represented in the codex as a hill sign qualified by a man dancing - to signify Zahuatlán's Mixtec name "yucu nicata" or "Hill that Danced". Both Jaltepec and Yanhuitlán, a principal rival in the the northern Nochixtlán Valley, claimed the town. Lords and Ladies of Zahuatlán appear in the codex either paying homage, intermarrying, or being subjugated by Jaltepec. Since the painting of the codex was assuredly commissioned by Jaltepec, a better name for the manuscript is Codex Añute, Jaltepec's Mixtec name.
Previous Page | Table of Contents | Next Page