Linda Schele was a prolific Mesoamerican scholar who died in 1998. She originally trained as a studio art teacher and has written several great books which include "Maya Glyphs: The Verbs" (Schele 1982), the "Palenque Bodega" book (Schele and Mathews 1979), "The Blood of Kings" (Schele and Miller 1986), "A Forest of Kings" (Schele and Freidel 1990), "Maya Cosmos" (Freidel, Schele, and Parker 1993), and "The Code of Kings" (Schele and Mathews 1998).
Linda wanted her spirit of openness and sharing to continue after her death, and she and her husband David stipulated that FAMSI should be the central clearing-house for the public dissemination of her photographs and drawings, via its web-site. The original images have been bequeathed to the Schele Collection in the Benson Library at the University of Texas.
In accordance with Linda's wishes, the photographs contained in this archive are freely available to all interested parties for scholarly study. For publication use of her photographs, permission must be requested from FAMSI. Click to view information on Copyright Permissions: Procedures for Publication Use of FAMSI Images.
FAMSI would like to acknowledge the countless hours of Cristin Cash at the ongoing task of entering data on the larger part of 12,602 images.
To learn more about Linda Schele and the Schele images, please view the following articles by:
FAMSI announces the recipient of the Linda Schele Award: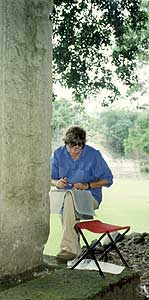 Photo © Justin Kerr
Linda Schele at work on drawings. Copán, Honduras, 1993