Ceramics at Piedras Negras, Guatemala
Vea este informe en Español.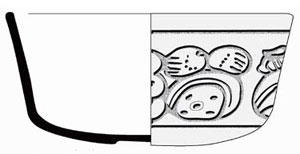 Research Year: 2001
Culture: Maya
Chronology: Middle Pre-Classic to Late Classic
Location: Lowlands Guatemala
Site: Piedras Negras
Table of Contents
Current Ceramic Research at Piedras Negras
Chronology
The Pre-Classic
The Early Classic
The Late Classic
Ceramic Production and Technological Innovation
Discussion
Acknowledgements
List of Figures
Sources Cited
Current Ceramic Research at Piedras Negras
The majority of recent ceramic research at Piedras Negras has been chronological and typological. Because of problems related to the idiosyncratic collection procedures employed by the Pennsylvania project, the previous ceramic seriation (Holley 1983) under-represents the variety, variability and time depth of the Piedras Negras ceramic sequence. The recent excavations have resulted in a very large and well provenanced ceramic sample and have allowed us to address these issues. The time depth of the sequence has been increased to reflect the presence of a Middle and Late Preclassic occupation at the site and, in addition, the larger ceramic sample has allowed a better accounting of variability within types. This has resulted in an expanded ceramic catalog and more accurate type descriptions (Muñoz and Fitzsimmons 1998; Muñoz 1999a, 1999b, 1999c, 2000, 2001). This more accurate understanding of ceramic variability has allowed us to make several inferences regarding the probable organization of ceramic production at Piedras Negras and processes of technological innovation in the ceramics of that site.
See also: "The Ceramic Sequence of Piedras Negras, Guatemala: Type and Varieties" by Arturo René Muñoz (#02055), submitted to FAMSI in March of 2004. In most regards, these two reports are complementary. In cases where these reports appear contradictory, the data presented in this later report should be taken as correct.
---
Click to download the report in PDF format:
Ceramics at Piedras Negras, Guatemala (138 KB)
The PDF files require Adobe Acrobat Reader.
To download the latest version, click the Get Acrobat Reader button below.
Submitted 04/16/2002 by: