Early Formative Interaction on the Pacific Coast of Guatemala: A Ceramic Perspective
Vea este informe en Español.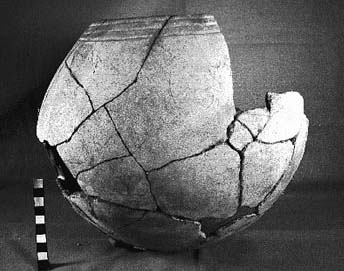 Research Year: 2002
Culture: Maya
Chronology: Early Pre-Classic
Location: Pacific Coast, Guatemala
Sites: Suchitepéquez, Escuintla, and Santa Rosa
Table of Contents
Abstract
Resumen
Introduction
Ceramic Classification and Descriptions
Description and Comments on Ceramic Groups
Slipped Groups
Unslipped Groups
Visiting the New World Archaeological Foundation Collections
Conclusions and Future Directions
Acknowledgments
List of Figures
Sources Cited
Appendix 1. List of Photos
Using the ceramic collections from various Early Formative sites on the lower Pacific Coast of Guatemala, a comparative study took place. These sites included settlements from the littoral of Suchitepéquez, Escuintla, and Santa Rosa, on the Pacific Coast of Guatemala. These collections were described and coded for a number of variables to study modal changes through time. When describing each type, a comparison was made with other collections including examples from the Mazatán region in Chiapas, México; La Victoria, Salinas La Blanca, El Mesak, Tecojate in Guatemala; and El Carmen in El Salvador. The results of this project show an intensive interaction of Early Formative societies as well as evidence for an early appearance of the diagnostic red paint that characterizes the typical hemispherical bowls or tecomates. This is documented in the form of interior red lip decoration in the Sipacate, Escuintla sample that shows an evolution to the wider red rim band on the exterior surface of the tecomate-shaped bowls typical of the Early Formative. The comparative study is still ongoing and more information will provide a better understanding of Early Formative societies in southern Mesoamerica.
Se llevó a cabo un estudio comparativo utilizando colecciones cerámicas de varios sitios del Formativo Temprano de la Costa más baja del Pacífico de Guatemala. Entre los sitios cuyas colecciones se estudiaron y describieron se incluyen asentamientos en el litoral de Suchitepéquez, Escuintla y Santa Rosa en la Costa del Pacífico de Guatemala. Estas colecciones se describieron y codificaron con un número de variables para realizar estudios modales y determinar cambios estilísticos a través del tiempo. Cuando se presenta la descripción de un tipo, también se hace una comparación con otras colecciones incluyendo ejemplos de la región de Mazatán, Chiapas, México; La Victoria, Salinas La Blanca, El Mesak, Tecojate en Escuintla, Guatemala; y El Carmen en El Salvador. Los resultados de este proyecto muestran una intensa interacción de sociedades del Formativo Temprano así como la evidencia de una aparición temprana de la pintura roja diagnóstica que caracteriza a los típicos tecomates o cuencos hemisféricos de la época. Esto se documenta en la forma de decoración de pintura en el labio interior de vasijas hemisféricas en la región de Sipacate, las muestras de Escuintla que presentan una evolución de la banda del borde más ancha en la superficie exterior de los tazones de forma tecomate típicos del Formativo Temprano. El estudio comparativo persiste y más información proporcionará un mejor entendimiento de las sociedades Formativo Temprano en el sur de Mesoamérica.
---
Click to download the report in PDF format:
Early Formative Interaction on the Pacific Coast of Guatemala: A Ceramic Perspective (6.49 MB)
The PDF files require Adobe Acrobat Reader.
To download the latest version, click the Get Acrobat Reader button below.
Submitted 09/15/2003 by: