Cancuén Archaeological Project
Vea este informe en Español.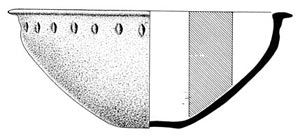 Research Year: 1997
Culture: Maya
Chronology: Classic
Location: Petén, Guatemala
Site: Cancuén
Table of Contents
Introduction
Mapping and Reconnaissance
Consolidation and Recording of Looted Structures
Excavations
Recovered Artifacts
Conclusions and Foundation for Future Research
List of Figures
Sources Cited
The 1999 field season exceeded our expectations in scope and discoveries. Survey and mapping at the largest center in this little explored and poorly understood region, Cancuén, Guatemala, revealed residential groups, a ballcourt, and new areas of the palace that previous explorers had failed to recognize. Its palace is certainly one of the largest in the Maya world, with architectural features including over forty well-preserved, corbel-vaulted rooms each three to four meters in height. Excavations in newly identified residential groups revealed evidence of craft specialization, long distance trade, and economic diversity and complexity.
We had hypothesized that Cancuén's location was critical in interaction between the volcanic highlands of Guatemala and the lowland Petén rainforest to the north. The site is located precisely at the start of the Pasión/Usumacinta River system, the single largest trade and transport system of the western Petén (Figure 1). Epigraphic evidence demonstrates that the site was allied with lowland kingdoms such as Tikal, Dos Pilas, Calakmul and Machaquilá and yet appears to have remained politically independent.
The excavations of the FAMSI sponsored 1999 season at Cancuén support and document these interpretations. Ceramic data implies strong connections with both the highlands and the lowlands and lithic finds indicate the importance of craft specialization and long distance lithic exchange. The material recovered is essential for interpreting the origin and importance of Cancuén, as well as addressing larger questions of the role of highland-lowland trade in the rise, maintenance and fall of the Classic Maya civilization.
These investigations consisted of: mapping and survey of the previously unstudied residential areas of the site; salvage, recording, and consolidation efforts within the royal palace to counter damage caused by looting; and excavation of test units to sample residential areas throughout the site. All of this has been done to gather preliminary information for generating a more complete site map (Figure 2>) as well as larger-scale grant proposals for future seasons.
---
Click to download the report in PDF format:
Cancuén Archaeological Project (712 KB)
The PDF files require Adobe Acrobat Reader.
To download the latest version, click the Get Acrobat Reader button below.

Submitted 04/01/2000 by: