Ancient Maya Political Centers: Rural Copán Survey and Excavation at El Raizal, Honduras
Vea este informe en Español.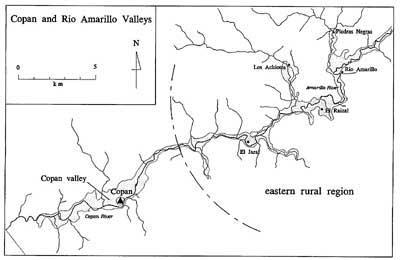 Research Year: 1998
Culture: Maya
Chronology: Late Classic
Location: Copán, Honduras
Site: El Raizal Valley
Table of Contents
Introduction
Objectives
Project Team
Results From The 1998 Season:
Survey & Mapping of the El Raizal Region
Number of Sites
Location of Sites
Typology of Sites
Morphology of Sites>
Chronology of Sites
Excavations of S-32, El Raizal
Excavations of S-32, Patio 1
Excavations of S-32, Patio 2
Excavations of S-32, Patio 3
Excavations of S-32, Patio 4
Excavations of S-32, Off-Site
Excavations of S-33, El Raizal
Final Summary
List of Figures
Sources Cited
In ancient Maya society, the relationship between large urban areas and the outlying rural regions that surround them have remained poorly understood. This inadequacy results partly from traditional archaeological research of the Classic Maya that has too often concentrated on polity capitals and associated settlement, even though the importance of center-periphery relationships in complex societies have long been recognized. To address this crucial question, new research strategies are adopting a more balanced approach that focuses equivalently on all the sociological units (households, communities, civic centers) recognizable in the rural settlement (cf. de Montmollin 1988). Since this research avoids extrapolating (down or up) from one analytical unit to another, it represents a more detailed analysis of rural settlement that can not only provide a sociological model for the structure and organization of the rural areas, but also trace its relationship to the neighboring urban areas through time.
Investigations of rural settlement near the Classic Maya polity of Copán, Honduras represent one of the earliest attempts to integrate rural settlement with a large polity capital (Figure 1). In the course of these investigations a model of urban consumption and rural production was developed (cf. Webster and Gonlin 1988; Webster and Freter 1990; Freter 1994:167; Sanders 1989:99). Since 1996, new research has been re-examining this urban-rural model by conducting further survey, mapping and excavation in this rural region (Figure 2). This research, conducted by the Río Amarillo Rural Survey project (RARS), has gathered results that help outline a new sociological model for both center-periphery and intra-rural socio-political relations.
In the 1998 season, the RARS project undertook an intensive survey and excavation program at the large rural center known as El Raizal. El Raizal is located in a small valley to the south of the Amarillo River, created by Quebrada Raizal, a small tributary to the larger river (Figure 3). Although this site has been mentioned and sketched by previous researchers (Vlcek and Fash 1986), it has never been the subject of a more specific and concerted research. A research program consisting of surveying and excavations was conducted during a sixteen-week period between March 1st and June 1st, 1998. This final report of the 1998 field season is presented to FAMSI and includes the description and figures of the survey, site mapping, horizontal excavations, and test excavations at El Raizal. This report describes each of these activities.
---
Click to download the report in PDF format:
Ancient Maya Political Centers: Rural Copán Survey and Excavation at El Raizal, Honduras (924 KB)
The PDF files require Adobe Acrobat Reader.
To download the latest version, click the Get Acrobat Reader button below.

Submitted 02/01/1999 by:
Marcello A. Canuto