La Pasadita Archaeological Project
Vea este informe en Español.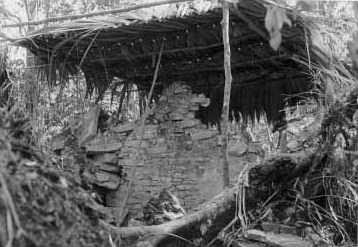 Research Year: 1998
Culture: Maya
Chronology: Late Classic
Location: Usumacinta Basin, Guatemala
Site: La Pasadita
Table of Contents
Introduction
Political History
Results of Reconnaissance
Conclusions
Acknowledgements
List of Figures
Sources Cited
On March 15, 1998, a small team consisting of Charles Golden (Univ. of Pennsylvania), Tomás Barrientos (Vanderbilt Univ.), Zachary Hruby (Univ. Calif., Riverside), René Muñoz (Univ. of Arizona) and ten workers from Dolores, Petén, made the first archaeological reconnaissance in almost 30 years of the site of La Pasadita. La Pasadita is a Classic Maya center located near the ancient frontier between the Yaxchilán and Piedras Negras polities. Today the site is shrouded in forest and accessible only by foot and horse. La Pasadita is known primarily for two carved lintels on display in museums and private collections outside Guatemala, as well as two polychrome mural fragments recovered in 1971 by Ian Graham. The epigraphic data available indicate that La Pasadita was governed during the latter half of the 8th Century A.D. by an individual named Tilo:m, who bore the title of sajal and who owed allegiance to the k'uhul ajaw, "holy lord", of Yaxchilán. It is clear that individuals bearing the sajal title were members of the non-royal nobility (Houston, 1993:128-129; Stuart, n.d.). Yet, we know little of the socio-political role played by sajal, and less still of how this role may be reflected in the artifacts, architecture, and settlement patterns of the sites they controlled. An understanding of secondary elites such as sajal is significant for understanding more than simply the internal organization of Maya polities. Understanding how such sajal-governed sites were organized to function within the body they served would greatly increase our understanding of how Classic Maya polities interacted with one another, especially along their frontiers. This project, then, sought to address three interrelated issues: (1) what was the socio-political role played by sajal, (2) how were sites ruled by sajal integrated into larger polities, and (3) how did Classic Maya polities interact along their frontiers. Operating under the auspices of the Piedras Negras Archaeological Project, directed by Lic. Héctor Escobedo and Dr. Stephen Houston, the La Pasadita Archaeological Sub-Project was initially envisioned as a three-year program of archaeological investigation dedicated to understanding the social role that was fulfilled by sajal within Late-Classic Maya polities.
The Late Classic (A.D. 600-800) was a period of political flux throughout the Maya Lowlands, during which subsidiary centers and secondary elites began to erect glyphic monuments for the first time (Fash, 1989; Fash and Stuart, 1991; Villela, 1993). Yet, it is only in the western Maya Lowlands, especially the Usumacinta Basin, that this new socio-political stature was expressed epigraphically with the advent of a new noble title: sajal (Houston, 1993:129; Stuart, n.d.). Nowhere else in the Maya realm is the relationship between ruler and subject nobility so literally and explicitly spelled out for the archaeologist. This peculiarity of the Usumacinta region makes the study of Classic Maya socio-political organization in this area particularly fascinating. That this ajaw/sajal relationship might be defined materially, as well as epigraphically, was the impetus behind our expedition.
The question of the integration of sajal and sajal-goverened centers into the larger socio-political structure that they served addresses several broader issues. Most striking, in the case of La Pasadita, is the definition of frontiers between Classic Maya polities. La Pasadita was subject to Yaxchilán, yet it is located across the Usumacinta River and 17 km to the north (Figure 1). Conversely, approximately 20 km to the north of La Pasadita, on the Mexican side of the modern border, is the site of El Cayo, Chiapas, a sajal-governed site allied to Piedras Negras. Somewhere in the space between these two secondary centers lay the ancient frontier between the Piedras Negras and Yaxchilán polities.
Epigraphic evidence suggests that this frontier was not a peaceful one. Piedras Negras Lintel 12 depicts a captive Yaxchilán ajaw, while Stela 8 shows a captive sajal from Yaxchilán. Furthermore, there is evidence that the last known ruler of Piedras Negras was captured as a result of conflict with Yaxchilán. The archaeological investigation of La Pasadita and its environs, therefore, offered the opportunity to understand the site as a physical construction, as well as a socio-political entity, involved in frontier maintenance.
---
Click to download the report in PDF format:
La Pasadita Archaeological Project (936 KB)
The PDF files require Adobe Acrobat Reader.
To download the latest version, click the Get Acrobat Reader button below.

Submitted 01/01/1999 by:

Department of Anthropology, Brandeis University