Porta Incensario Restoration at Palenque, Chiapas
Vea este informe en Español.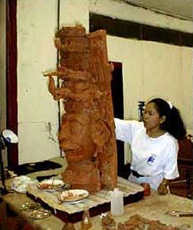 Research Year: 1998
Culture: Maya
Chronology: Classic
Location: Chiapas, México
Site: Palenque
Table of Contents
Background Information
Selection of pieces for restoration
Restoration process
Recovery
Evaluation
Cleaning, conservation, and restoration
Recommendations for maintenance
Training program
Display of the restored pieces
Continuing study
List of Figures


In 1998, the Proyecto Grupo de las Cruces undertook a program of conservation and restoration of six porta incensarios excavated from the north and west sides of the Temple of the Cross, Palenque. This program was supported by a generous grant from the Foundation for the Advancement of Mesoamerican Studies, Inc. (grant 97081). This program was designed not only to restore best-preserved porta incensarios excavated in 1997 and 1998 but also to train residents of the town of Palenque, Chiapas in restoration techniques to provide them with new job skills and to create a base of skilled support for future archaeological projects in Palenque.
The restoration of the porta incensarios was supervised by Juan Alfonso Cruz Becerril, a ceramic restoration specialist recommended by both the National School of Conservation of the INAH and Martha Cuevas G., the researcher studying the porta incensarios of Palenque. Cruz had previous restoration experience with the porta incensarios of Palenque as a member of the Proyecto Especial Palenque (directed by Arnoldo Gonzalez Cruz) and had supervised the restoration of several of the porta incensarios now on display in the Alberto Ruz Museo del Sitio de Palenque. During the five months of restoration (April-August 1998), six people – Francisco Guzman, Carlos Barrios, Eva Nahol, Fernando Morales, Amalia Jimenez, and Hilda de La Cruz – were trained in ceramic restoration techniques.
---
Click to download the report in PDF format:
Porta Incensario Restoration at Palenque, Chiapas (316 KB)
The PDF files require Adobe Acrobat Reader.
To download the latest version, click the Get Acrobat Reader button below.

Submitted 02/01/1999 by:

University of Texas, Austin