Postclassic Political and Economic Development in the Chetumal Province:
Establishing a Chronological Framework
Vea este informe en Español.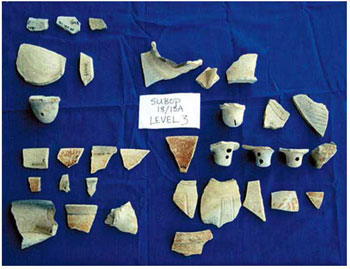 Research Year: 1999
Culture: Maya
Chronology: Post Classic
Location: Chetumal Province, Belize
Sites: Laguna de On Island, Caye Coco, Last Resort
Table of Contents
Introduction
Results
List of Figures
Sources Cited
The Belize Postclassic Project is investigating the dynamics of political development in the Chetumal Province region from 1000-1500 A.D. (Masson and Rosenswig, 1997; 1998; 1999; Rosenswig and Masson, 2000). Three seasons of research (1991, 1996-1997) focused on the small village site of Laguna de On Island, and since 1997, we have worked on neighboring settlements including an island monumental center at Progresso Lagoon (Caye Coco) and a village site at Laguna Seca (Last Resort). Research at these sites provides a regional perspective on the dynamic trends of political and economic development that are currently unknown for this province. The past two seasons (1998-1999) have focused intensively on community patterns at Caye Coco and have revealed the following information: (1) most of the monumental structures are elite residences that were erected in a single episode after A.D. 1250; (2) a probable meeting hall occupies the center of the site in a neighborhood of multiple elite residences; and (3) off-mound deposits at Caye Coco are rich with domestic features, including buried residential platforms, courtyards, and cemeteries. In particular, one deeply stratified elite midden has yielded artifact samples of a quantity, quality of preservation, and diversity (accompanied by faunal bone suitable for AMS dating) that provide a unique opportunity for refining the Postclassic chronology of our lagoon sites in the Chetumal Province. Through the study of diachronic patterns of household assemblages at this site, we are assessing the development of social status variation and patterns of production and exchange at this settlement.
This analysis is performed with the goal of re-examining the mercantile model proposed by William L. Rathje and Jeremy Sabloff to characterize Late Postclassic Maya social transformations (Rathje, 1975; Sabloff and Rathje, 1975) from the perspective of household economics. The rise of mercantilism during this period, facilitated through enhanced circum-Yucatecan maritime trade, correlates with significant changes in the distribution and expression of social power in Maya society. Elites and entrepreneurs seized and created new opportunities for prosperity and autonomy in this expanding network of economic interaction.
Our work in northern Belize suggests that Postclassic society in this region was stable and prosperous over a long period of time (A.D. 1000-1500), and economic and political interaction intensified during the latter half of this period (Masson, In Press). As regional analysis of Postclassic social development has been impaired by the need for a solid ceramic sequence supported by AMS dating, FAMSI underwrote the establishment of a chronology at the site of Caye Coco which will aid in the chronological assessment of other sites in northern Belize examined by this project. This chronology will facilitate a fine-grained assessment of economic development within these communities.
---
Click to download the report in PDF format:
Postclassic Political and Economic Development in the Chetumal Province:
Establishing a Chronological Framework (362 KB)
The PDF files require Adobe Acrobat Reader.
To download the latest version, click the Get Acrobat Reader button below.

Submitted 02/01/2000 by:


For related information see the report submitted to FAMSI by Marilyn Masson: Surviving Postclassic Maya Collapse–Belize