Late Preclassic Inscription Documentation Project
Vea este informe en Español.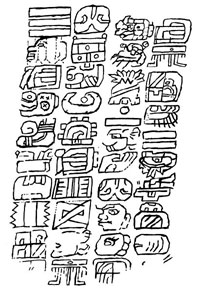 Research Year: 2000
Culture: Maya
Chronology: Late Pre-Classic
Location: Guatemala, México, Belize
Sites: Various
Table of Contents
Introduction
The Need for LAPIDA
Project Design and Methods
Results Achieved to Date
Comparison of Drawings
Art History and Paleography
Preliminary Epigraphic Discussion
Conclusions
Addendum
List of Figures
Sources Cited
This report concerns the current status of the Late Preclassic Inscription Documentation (LAPIDA) Project that I am conducting with support from FAMSI and other organizations. 1 I designed LAPIDA with one short-term objective in mind: to collect accurate data for my dissertation research, which deals with the orthography and grammar of Late Preclassic Mayan texts. During my research I have observed that some of the published drawings of Late Preclassic monumental and portable texts are sometimes inaccurate in details that could affect epigraphic study. For this reason, I decided to undertake the primary documentation of the subset of Late Preclassic texts that I think are more amenable to epigraphic study.
In the following paragraphs I justify the need for this project, explain its methods, present the results achieved so far, and offer a preliminary discussion of some of the data. I conclude with a suggestion for the expansion of LAPIDA into a long-term project for documenting early inscriptions from throughout Mesoamerica. The goals of the expanded LAPIDA would be to collect accurate data relevant to understanding the origin and spread of Mesoamerican scripts, and to aid in their decipherment.
In addition to funding from FAMSI, my LAPIDA Project has also been supported with grants from the Institute for Mesoamerican Studies, the Benevolent Association, and the Graduate Student Organization at the State University of New York at Albany. I have conducted research at the following museums and collections: the Dumbarton Oaks Research Library and Collection, the Yale Art Gallery, the Fidel Tristán Jade Museum in Costa Rica, the National Museum of Costa Rica, the Brooklyn Museum of Art, the Peabody Museum, the Princeton Art Museum, and the National Museum of Archaeology and Ethnology in Guatemala City.
---
Click to download the report in PDF format:
Late Preclassic Inscription Documentation Project (4.40 MB)
The PDF files require Adobe Acrobat Reader.
To download the latest version, click the Get Acrobat Reader button below.

Submitted 11/01/2000 by: