Stucco Relief from Structure XIX, Palenque
by: Marcia Valle Rangel and Juan Alfonso Cruz Becerril
Translation of the Spanish by Alex Lomónaco
Vea este informe en Español.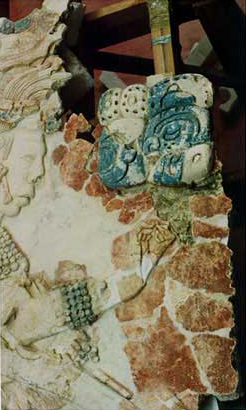 Research Year: 1999
Culture: Maya
Chronology: Late Classic
Location: Chiapas, México
Site: Palenque, Group of the Cross
Table of Contents
Introduction
Acknowledgments
Background
Formal Description
Manufacturing Technique
State of Preservation
Intervention Proposal
Treatments Applied
Conclusions
Maintenance Recommendations
List of Photographs
The conservation and restoration area is an important part of the Group of the Cross Project, and is responsible for the rescue, preservation and restoration of artifacts found during the excavation, and for the maintenance and restoration of objects bound to remain in situ.
The conservation and restoration area is made up of graduate students of the National School of Preservation, Restoration and Museography "Manuel del Castillo Negrete", and inhabitants of the city of Palenque, who have been trained by the preservation experts and worked under their supervision.
During the August 1998 field season, the remains of a polychrome stucco relief found in the interior jamb of the central pilaster in Structure XIX were removed and salvaged, together with all the fragments disseminated among the collapsed rubble. Later, the preservation and restoration works of the relief continued during the months between December 1998 and June 1999. During those months the goal established was to restore the shape and size of the relief, based on all fragments found in the excavation. Nearly 80% of the relief was recovered, and its size increased from 1.10 m to 3.40 m.
The recovery of the image in the stucco relief was a slow process, but one that upon completion served to provide abundant information regarding the manufacturing technique and other characteristics of the structure such as a more accurate size of the pilaster, which allowed for a greater knowledge in regard to the construction of this building.
Once the preservation and restoration processes of the stucco relief were completed, the relief was displayed in the exhibition "El tiempo en espiral", ("Time in a spiral") at the "Alberto Ruz Llullier" site museum located at Palenque's Archaeological Zone, Chiapas, which was a part of the activities scheduled for the 1999 Palenque Round Table.
---
Click to download the report in PDF format:
Stucco Relief from Structure XIX, Palenque (4.50 MB)
The PDF files require Adobe Acrobat Reader.
To download the latest version, click the Get Acrobat Reader button below.

Submitted 05/01/1999 by:
or