Now, courtesy of Akademische Druck - u. Verlagsanstalt - Graz, Austria, FAMSI provides access to their definitive facsimiles of the ancient accordion fold books created hundreds of years ago by Aztec, Maya and Mixtec scribes.
Codex Borbonicus
ISBN: 3-201-00901-6
Codex Ixtlilxochitl
ISBN: 3-201-00970-9
Codex Magliabechiano
CL. XIII. 3 (B. R. 232)
ISBN: 3-201-00763-3
Codex Borgia
ISBN: 3-201-00964-4
Codex Cospi
ISBN: 3-201-00762-5
Codex Fejéváry-Mayer
ISBN: 3-201-00764-1
Codex Laud
ISBN: 3-201-00761-7
Codex Vaticanus 3738
(Codex Vaticanus A, Codex Ríos)
ISBN: 3-201-01107-X
Codex Vaticanus 3773
(Codex Vaticanus B)
ISBN: 3-201-00780-3
Codex Dresdensis
(Codex Dresden)
ISBN: 3-201-00960-1
Codex Peresianus
(Codex Paris)
ISBN:3-201-00760-9
Codex Tro-Cortesianus
(Codex Madrid)
ISBN: 3-201-00759-5
Codex Egerton 2895
(Codex Waecker Götter)
ISBN: 3-201-00758-7
Codex Vindobonensis Mexicanus 1
ISBN: 3-201-00757-9
Codex Zouche-Nuttall
ISBN: 3-201-01350-1
Codex Becker I / II
ISBN: 3-201-00756-0
---
For the last 35 years ADEVA, Graz/Austria has set the world-wide standards in the production of high quality facsimiles. ADEVA has a well diversified program of true-to original reproductions of ancient and medieval manuscripts. In the field of Mesoamerican Studies, ADEVA presently offers about 18 titles, to which further facsimiles will be added.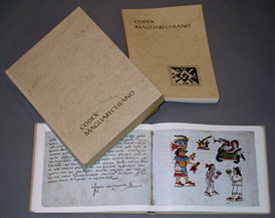 To order any of these beautifully bound and boxed sets, please use the ADEVA website: ADEVA.com