The Maya Vase Database is an extension of the Maya Vase Books by Justin Kerr and The PreColumbian Portfolio are photographs of various objects. Both can be viewed by using the search pages. Each database contains details about each object: dimensions, type, and location, if known.
For information pertaining to photographs created by Justin Kerr, such as the Maya Vase Database, or the Kerr Pre-Columbian Portfolio, please direct your inquiry to the Maya Vase site email at: mayavase@aol.com.
To enter either database, click on a banner above, or…
To preview the databases, click on the images of Maya Vases below. These are samples of more than 1,000 rollout photographs in the complete Kerr Collection.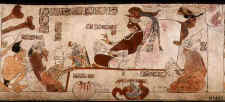 Palace Scenes
Mythological Scenes


Warrior Scenes
Animal Scenes

In conjunction with The Maya Vase Database, we present additional works in The Kerr Collections:
Click here for information on the Maya Vase Books by Justin Kerr.
For more information on the Kerr photographs contact: mayavase@aol.com